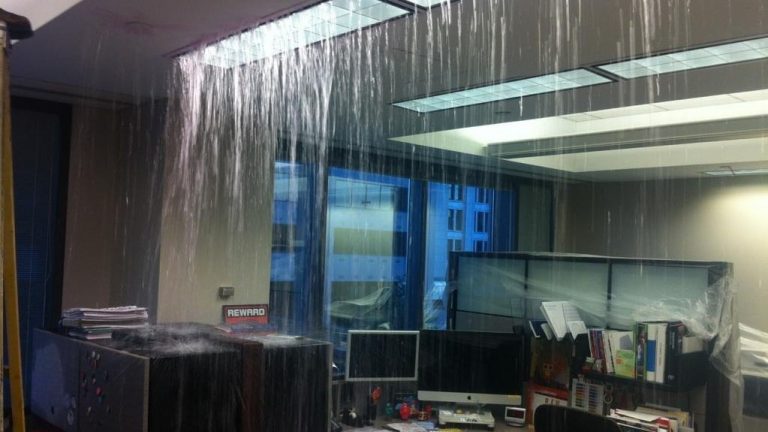 Commercial Water Damage Restoration
Water Damage…it can happen at any time and spread extremely fast. Whether the damage was caused by flood or a broken water line, it can immobilize your company, causing lost productivity and revenue. You need fast, 24-hour emergency service, 365 days per year…you need ProClean Systems service!
ProClean professionals are IICRC certified and will respond to your need immediately.
Initial actions can be the difference between a long, major clean-up and a fast, modest clean-up. Bacterial contamination can be present immediately. Mold growth can start within hours. Structural and content damage can spread exponentially.
One call to ProClean can give you immediate knowledge to effectively and safely react to water damage allowing you to quickly limit the amount of damage and safeguard the health of your employees and patrons! ProClean offers 24/7 emergency service 365 days per year…we are always on call.
Quick response to your site is another hallmark of ProClean restoration service. Depending on your location within our service area, a certified professional can be at your location within 30 to 60 minutes of the initial phone call. Your ProClean professional will immediately assess the situation and provide:
The ability to quickly stop the source of the water intrusion.
A determination of the severity of the water infiltration and what level of health and safety risk is present.
Immediate steps to mitigate further encroachment and stop subsequent growth of bacteria and mold in its tracks.
State of the art equipment and techniques certified by the Institute of Inspection, Cleaning and Restoration Certification (IICRC) to swiftly begin cleanup of your site.
A complete set of resources to provide a thorough cleanup – including contaminant disposal, as well as the ability to completely restore your site to its previous condition.
The ability to work directly with your insurance company so that you may promptly recover from the financial impact.
ProClean knows the devastation and stress that even a small disaster can impart – we see the aftermath on every job. You can rest assured that ProClean will help you recover quickly and efficiently with minimal disruption to your business.