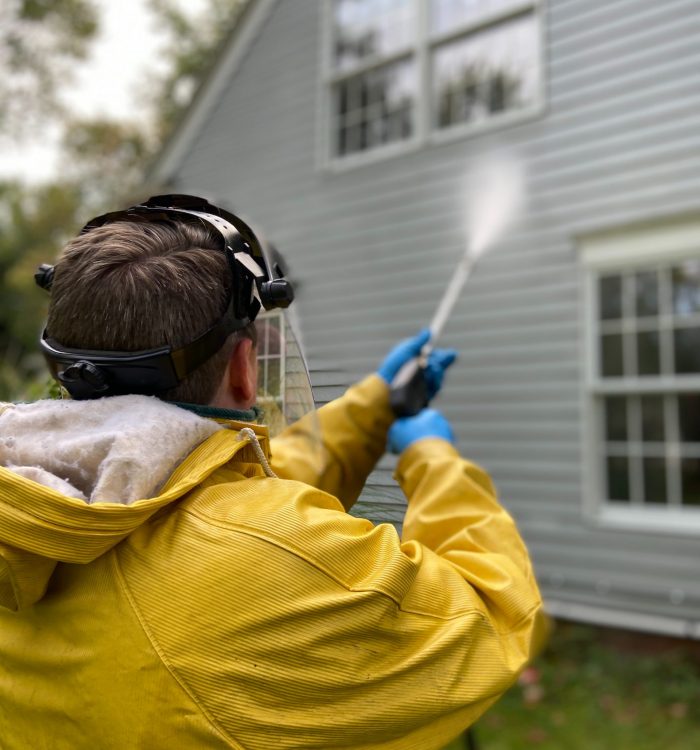 ProClean has the experience and systems to:
clean the exterior of your entire property…roof, siding, walks, decks, fences, drives, gutters, windows, steps, pools, awnings…one call does it all!
use different systems on different parts of your home to eliminate any risk of damage.
know what detergents and rinses work best for any given stain or soil type, keeping chemical usage to a minimum.
ProClean offers optional premium sealer applications and can advise you on the best maintenance techniques to keep your castle clean for a longer period of time.
Mother Nature is not kind to your home. Over time, she leaves your pride and joy streaked, stained, moldy, soiled, full of gutter debris, sap covered, and looking worn in general. Active lifestyles add to her abuse of your abode: spilled paint, leaked oil, missed food droppings, pet accidents, grill grease, and tire marks are common. All of this and more relentlessly grinds away at your dwelling's exterior at such a slow pace that you may not even realize its happening until that bright sunny day when you suddenly realize your once pristine home looks twice its age!
ProClean can return your pride and joy…your investment…to its original splendor!
Free in-home estimates…free 4-week callback policy…the guarantee of The Best Job. Best Value.
Something must be done you think…and you are not wrong. However, before you decide to run down to the big box store and buy a load DIY supplies, ask yourself these questions:
Do you have the time to tackle an undertaking this big?
Do you own a pressure washer?
What are its capabilities? How many gpm? Does that even matter?
Can you use it anywhere on the home? Is the pressure adjustable?
What chemicals do you need? What chemicals work best in each application? Are they safe?
Should you wash from bottom to top? Or, top to bottom?
What protective gear do you need?
Hot water or cold water?
What amount of dwell time is needed?
Do heights bother you?
What tips do you use?
Can you safely reach the gables and roof?
Do you have attachments that clean large swaths of drive or roof at a time?
What do you do when a stain or dark streak won't come off?
Your ProClean professional can answers these questions and more! We have the experience and the systems to handle whole house exterior cleaning…from your roof down to the end of your drive. And ProClean completes the job in hours, not weeks.
Can you really afford not to professionally care for what is usually the biggest investment of a person's lifetime?
Remember…with ProClean's free 4-week call back guarantee, you have peace of mind of a job done right! The Best Job. Best Value speaks for itself…we even do windows.